Visit new group set up specifically for this challenge at
GOODREADS
.
Welcome to the
Historical Tour de Genre Reading Challenge
. This is my favorite genre to both read and write. I am a history buff and avid researcher. Although I've signed up for several other reading challenges hosted by great book blogging friends, I decided to start one of my own. I hope you find it interesting and decide to join in. Sometimes the title 'historical' sounds stuffy, or boring and stiff, but it doesn't have to be. Actually, the genre is widening and many sub-genres have developed. To celebrate the diversity I designed a challenge that explores various subs of my favorite reading category.
I will also be hosting special
Tour de Genre Giveaways
throughout the year. Books will be from the various genres listed below. To be eligible to win you have to be signed up for this challenge.
Challenge Details:
OPEN all year long
(Technically) Begins:
January 1, 2011
and Ends:
December 31, 2011
Goals:
Since this is a tour, the idea is to read at least one book from each sub-category. Of course, you'll be the envy of all if you read more and can do multiple 'laps' around the track.
You don't have to select your books ahead of time, you can just add them as you go. Also, if you do list them upfront you can change them, no bigger. The idea is to have fun. The books you choose can crossover into other challenges you have, because let's face it -- your eyes would fall out of your head otherwise.
You can join anytime between now and the later part of next year.
Here are the required categories. You can sub 2 with alternatives if you prefer, but the
total to finish a tour is 6 books from different sub-genres
. I've also added links for book browsing and suggestions.
Historical Mystery/Whodunnit/Gas-Lit Century/Victorian
A novel of revelation, with action more mental than physical- like a puzzle. A significant event, usually a murder, has just occurred, and the protagonist's job is to discover who committed the crime, and why
.
Barnes & Noble
(ideas)
Amazon
Other Suggestions:
The Meaning of Night
by Michael Cox,
Maids of Misfortune
by M. Louisa Locke,
Bone Rattler
by Eliot Pattison
Historical Horror
Its only true requirement is that it elicit an emotional reaction that includes some aspect of fear or dread.
Barnes & Noble
(ideas)
Amazon
Other Suggestions:
Dracula
(any version),
The Cries of Vampire
by Sean H. Robertson,
West End Horror
by Nicholas Meyer
Historical Romance or Regency
A novel that focuses on the relationship and romantic love between two people, and must have an emotionally satisfying and optimistic ending. Regency: Regency England or European continent.
Barnes & Noble
(ideas)
Amazon
Other Suggestions: Outlander series by Diana Gabaldon, Pink Carnation Series by Lauren Willig, Philippa Gregory
Historical Young Adult
Written for, published for, or marketed to
adolescents
and
young adults
, roughly ages 14 to 21 yrs.
Barnes & Noble
(ideas)
Amazon
Other Suggestions:
Book Thief
by Markus Zusak,
Bright Young Things
by Anna Godbersen,
Duchessina

,

Mary Bloody Mary
by Carolyn Meyer
Historical Plantation
A settlement in a new country or region that includes an agricultural estate usually worked by resident labor. Depicts life on a plantation/setting.
Barnes & Noble
(ideas)
Amazon
Other suggestions:
The Book of Night Women
by Marlon James,
Dark Road to Darjeeling
by Deanna Raybourn,
The Widow of the South
by Robert Hicks,
The Farming of Bones
by Edwidge Danticat
Historical Thriller
A story in which the audience is waiting for something significant to happen.
The reader experiences a vicarious thrill by identifying with the hero and the danger he faces, becoming a participant in the chase. Usually d
epicts crime, mystery, or espionage in an atmosphere of excitement and suspense.
Barnes & Noble
Amazon
Other Suggestions:
The Westminster Poisoner
by Susanna Gregory,
Bravo Jubilee
by Charlie Owen,
Pelegia and the Red Rooster
by Boris Akunin
Alternative Sub-genres:
Can sub twice for any of the above
Historical GLBT -

Include social, romance or conflict w/Gay, Lesbain, Bisexual, Tran. characters

Historical Fantasy -

Where magic/ phenomena is primary, alternative worlds, myths and legends

Historical Western -

Set mostly in 19th c. American Old West or conflict between native/settler

Historical Paranormal -

Include envents i

mpossible to explain by known natural forces or by science

Historical True Crime -

E

xamines an actual crime and details the actions of real people. May include e

xamining political assassinations, well-known unsolved murders, or deaths of celebrities.
Sign Up Details:
To sign up you MUST make a post on your blog about participating in the challenge. You then use the URL of the post to sign up to the challenge by adding it to Mr Linky below. DO NOT just add your blog URL - this will be deleted. It can be a link to a designated 'Challenge Post, Tracker or Page." I know many bloggers have a separate challenge page, which contains a collective list -- that is great and works really well.
You must add the button to your sidebar - make sure that it links back to this post so others can join the challenge if they wish. Easiest way to do this is to copy and paste the code displayed below.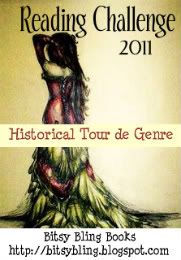 To join in, please sign up using direct URL link to your challenge page or post. Thanks!
No blog? No problem! I set up a group at
GOODREADS
for everyone for book and challenge discussions.
HISTORICAL TOUR de GENRE GIVEAWAYS
Anyone signed up for reading challenge or member of group at Goodreads is eligible for monthly giveaways. Not signed up or a member yet? No problem! You can join anytime during the 2011 or prior. Just click o the above links and then come back :)
Open International as long as Book Depository ships to your country. US winners will receive book via distributor of Bisty Bling Book's choice. Int'l winner will receive book via Book Depository.
Winner picked by Random.org
Eligibility will be verified. Entries not eligible will be deleted.
FEBRUARY
Feb. 10-17
The Lady's Slipper
by Deborah Swift
1660. King Charles II has returned from exile, but memories of the English Civil War still rankle. There are old scores to settle, and religious differences threaten to overturn a fragile peace. When Alice Ibbetson discovers a rare orchid, the Lady's Slipper, growing in a wood belonging to Richard Wheeler, she is captivated by its beauty— though Wheeler, a Quaker, is determined to keep the flower where God intended it to grow. Knowing that the orchid is the last of its kind, she steals the flower, little dreaming that her seemingly simple act will set off a chain of events that will lead to murder and exile, and change her life forever…
JANUARY (contest closed)
Gaslight, Victorian, Mystery/Whodunnit
Congrats to this month's lucky winner!

*Luckngrace*