121212...This is NOT a test!
Attention:
It's Day 3 of the Book Club Bash and Readathon. While typing this post, my dog jumped on the couch, trampled across my lap and flew off the end, knocking my MAC on the floor. PANIC! It's an oldie, but still works. For a brief moment my life flashed before my eyes. After some praying that it would indeed boot up, I read what gift today's featured author would like this year, and I nod in absolute agreement. My current companion (the MAC, not the dog) is a used up mess. However, I am happy to report that it does live to see another post! Enough about my day, lets talk BOOKS!
What better book to feature on 12-12-12 and on the brink of 12-21-12 than a post-apocalyptic, bio-punk thriller?
Kingdom

(Timber City Series #1)
Author Anderson O'Donnell
Twitter
In a secret laboratory hidden under the desert, a covert bioengineering project—codename "Exodus"—has discovered the gene responsible for the human soul.

Somewhere in the neon sprawl outside the nation's collapsing economic core, a group of renegade monks are on the verge of uncovering a secret that has eluded mankind for centuries.

In a glittering tower high above the urban decay, an ascendant U.S. Senator is found dead—an apparent, yet inexplicable, suicide.

And in the streets below, a young man races through an ultra modern metropolis on the verge of a violent revolution....closing in on the terrible truth behind Exodus—and one man's dark vision for the future of mankind.
Yeppers, I did subject Anderson to my holiday questions. He partakes in the church of football, but not retail. Can't blame him on that one! New Year's resolution? Nope, not him. It's pointless -- AHHHH...We're ALL gonna DIE!!!
A: Football on Thanksgiving
Q: We always talk about our favorite holiday dishes, but what's the one that makes you cringe?

You know the one that you pass on every year, yuck!
A: "Crabbies." Sounds like something you really don't want…
Q: Black Friday?

Yes or no?

Why?

A: Hell no. Why on earth would I stand in line to buy stuff when I could be home with my family?
Q: If you could receive any gift, what would it be?
A: A new Macbook Pro. My current guy is getting pretty worn out!
Q: What three books would make your top Best of 2012 list?
A: "Wind Through the Keyhole"; "Shadow on the Wall"; and [insert featured book lol]
Q: Which 'Who' are you? What Dr. Seuss character from Whoville would you be?

Which one do you identify the most with and why?

A: The Mayor…hearing voices about the apocalypse and always trying to do too much!
Q: Do you make a New Year's Resolution? Why or why not?

What's your record, success or epic fail?

A: No-its futile…I used to try, but really, it was pointless…To follow through on something like that, I need a little better motivation that "it's a new year."



Are you participating in the Book Bash Readathon? Well, why the heck not!? Click on image to sign up. Join in anytime during the week! Perks? Reading, Books, Giveaways....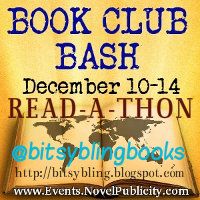 Open Giveaways!
Book Club Bash Giveaway
More Books Bash Giveaway (US)