Someone get me coffee!!! It's Day 4 of the Book Club Bash and Readathon! Thriller Thursday delivers author Monique Domovitch's first book in the series, Scorpio Rising.
Scorpio Rising
Author Monique Domovitch
Set in New York and Paris amid the glamorous and competitive worlds of art and real estate, Scorpio Rising takes the reader from the late 1940s to the 1960s through the tumultuous lives of its heroes. There is Alex Ivanov, the son of a Russian immigrant and part-time prostitute. He yearns to escape his sordid life and achieve fame and fortune. His dreams of becoming a world-class builder are met with countless obstacles, yet he perseveres in the hope of someday receiving the recognition he craves. Half a world away, Brigitte Dartois is an abused teenager who runs into the arms of a benefactor with an agenda all his own. When she finds out that her boss has an ulterior motive, she flees again, determined to earn her living through her art. This career brings her fame, but also the unwanted attention of her early abuser.
It's the holidays and you've received an invitation to your favorite new thriller author's house for dinner. My advice, give her a peck on the cheek under the mistletoe, bring shiny babbles and leave the marshmallow yams at home! Do this, and you'll be a hit!
Q: What's your favorite holiday tradition?
A: Kissing under the mistletoe,

drinking lots of eggnog and opening presents.
Q: We always talk about our favorite holiday dishes, but what's the one that makes you cringe?

You know the one that you pass on every year, yuck!
A: Yams baked with marshmallows topping. Oh so, so gross.
Q: Black Friday?

Yes or no?

Why?
A: I don't enjoy shopping in crowds, so no for me. I like to do my shopping on any given Monday morning when there's hardly a soul around.
Q: If you could receive any gift, what would it be?
A: Hmm, let's see. Anything? Then definitely diamond earrings the size of doorknobs. But I'm more likely to get the doorknob.
Q: What three books would make your top Best of 2012 list?
A: I rarely read books when they first make the bestseller list, so my best books this year are not necessarily books that were published this year. I loved Girl Gone. It, like my own Scorpio novels was based on the premise that damaged children become damaged adults. The choices they make are sometimes difficult to understand.
I also loved A Trick of the Light, a murder mystery by a new Canadian author I recently discovered, Louise Penny. She writes beautifully. It was also wonderful for me to read and recognize all my familiar haunts from when I lived in Montreal. And I know this one is a few years old but I also loved Mortal Friends by Jane Stanton Hitchcock. That lady can write a spell around you. I couldn't put it down. If you had asked me for a fourth and fifth favorite books I would have added Scorpio Rising and The Sting of the Scorpio. Gosh those are such great page turners. Oh wait, I wrote those. But I just know you'll love them too.
Q: Which 'Who' are you? What Dr. Seuss character from Whoville would you be?

Which one do you identify the most with and why?
A: Oh. I'm definitely the mayor's wife, because I too can juggle 97 kids (or at least three dogs) and keep the house impeccably organized. (My husband won't see this, right?)
Q: Do you make a New Year's Resolution? Why or why not?

What's your record, success or epic fail?
A: My resolution is always the same, lose a few pounds. And I've lost those same pounds countless times, so yes, I am successful at keeping my resolution, but those pounds keep finding their way home—sometime around April Fool's, which also happens to be my birthday. I blame it on the cake. It's gotten too big, you know, to hold all those candles.
***
Are you participating in the Book Bash Readathon? Well, why the heck not!? Click on image to sign up. Join in anytime during the week! Perks? Reading, Books, Giveaways....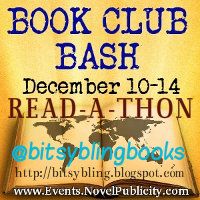 Open Giveaways!
Book Club Bash Giveaway
More Books Bash Giveaway (US)