It's Day 2 of the Book Club Bash and Read-A-Thon. How is everyone doing? In between blogging and reading, I put up my Christmas village display. My living room looks like a post-Ke$ha concert glitter fest. I'm finding sparkles in every crack.
But enough about me, lets talk books! I had the chance to ask each of our Book Club Bash authors a set of questions. Each day, I will reveal their answers and at the end of the week, I'll recap what we've learned.
Today, I have Lenore Skomal, the author of Bluff! If you haven't visited her website, you must. I love the header and wish I could create a similar one for my author page.
Lenore isn't big on gift giving, but if she were to get one...well, she doesn't mess around. Check out her answers to my holiday questions.
A little Q&A with Author Lenore Skomal
Q: What's your favorite holiday tradition?
Q: We always talk about our favorite holiday dishes, but what's the one that makes you cringe?

You know the one that you pass on every year, yuck!
Q: Black Friday? Yes or no? Why?
A: No, never. Here's my rant: It's shameless manipulation by retailers to get consumers to overspend by deluding them that they're getting a bargain. I also don't care enough by flat screen televisions to get up at the crack of dawn to risk my life by waiting in line.
Q: If you could receive any gift, what would it be?
A: The Pulitzer Prize.
Q: What three books would make your top Best of 2012 list?
A: I'd be lying if I didn't say mine: Bluff, Burnt Toast and Elbow Grease.
Q: Which 'Who' are you? What Dr. Seuss character from Whoville would you be? Which one do you identify the most with and why?
A: The Mayor

of Whoville—not the Grinch version, but the fellow with 97 mouths to feed in "Horton Hears a Who

." Besides the fact I look like him, I think I fit Seuss' description

of Ned McDodd, "

devoted, fair, and a little bit odd

."
Q: Do you make a New Year's Resolution? Why or why not?

What's your record, success or epic fail?
A: Yes, I love resolutions because they are a constant reminder that we are always able to reinvent ourselves and are deserving of a fresh start. My record success was resolving on New Year's Eve to "Be Happy." And by the end of that year, I decided to take matters in my own hands, stopped waiting for my savior and began to craft my own destiny. Instant happiness.
"To the medical world, I was a host body, surviving only to bring a new life into the world. And while I wanted to die more than anything in the world, I never wanted this. No, I never wanted to cease to exist. This was the worst death of all."
Bluff
Author Lenore Skomal
Website
Twitter
Jude Black lives in that in-between, twilight place teetering on death but clinging to life in order to bring her baby into this world. Only she knows the circumstances surrounding her mysterious fall off the bluff that landed her in the hospital being kept alive by medical intervention. Only she knows who the father of her baby is. In this poignantly crafted literary novel, the mystery unfolds and the suspense builds as the consequences of Jude's decisions threaten to reveal everyone's deceptions, even her own. Bluff offers a sensitive look at essential questions such as the value of human life, the consciousness of those in a coma and the morality of terminating life support. At the core is the story of a tragically misunderstood woman who finds peace, acceptance, understanding and even love on her deathbed.
Are you participating in the Book Bash Readathon? Well, why the heck not!? Click on image to sign up. Join in anytime during the week! Perks? Reading, Books, Giveaways....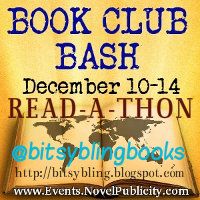 Open Giveaways!
Book Club Bash Giveaway
More Books Bash Giveaway (US)