Today's Book Club Bash Feature is
:
X-It
Author Jane George
Website
Twitter
In 1980 NYC, eighteen-year-old J.J. Buckingham is an uptight trendoid. Working as a mannequin painter and a counter girl, she moonlights as a creature of the nightclubs. J.J. falls for aloof, crazy-talented artist and bicycle messenger X-It. In order to win his love, she succumbs to the dark machinations of drug dealer Marko Voodoo. X-It will love her if she's the queen of underground Manhattan, right? Her plan backfires with horrendous consequences. Can J.J. find her way out of a maze of drugs, clubs, and danger?
Review:

This is very punk rock and not in the candy-coated nostalgia sense, but in the dirty, dye-stained world of vaseline and aqua net. Even though this is set in 1980, it easily could range into the mid 90's. The club scene, drug addiction, music and underground hipness of punk rock influence reached over a decade. The only thing missing, intravenous HIV inflections and a groupie gang of junkie strippers. Engaged in high risk behavior, this fortunate teen escapes battered but not dead, which is an accomplishment considering the atmosphere. Live and learn, or at least hope so. Some characters get their happy ending, while others have a REALLY bad day! The novel reads like a memoir, which helps strengthen the reader's attachment to the lead female character J.J. Those who have never had similar experiences will get to experiment vicariously through her and the tribe of poser dwarves. I literally got goose bumps and tingles towards the end of the book -- this was brought on by pure emotional attachment. Being a product of the Underground in Seattle during the early 90's, I can relate to the club scene and the drug influence. I watched a fair share of lives be destroyed, talent wasted and dreams crumpled in the trash. However, some people like J.J. came out the other side. The good, the bad and ugly make us what we are and trust me, although this is fiction, it is not in the least bit far-fetched. Every scene in a big city is just a group of small town hopefuls and running into each other with the aid of the six degrees of separation is strangely realistic. If you don't believe me, just ask anyone hanging with the band members of Pearl Jam, Sound Garden, Alice in Chains, Sky Cries Mary, Tad and Nirvana at the Croc in Seattle back in the day of grunge. True Story.




I got the chance to ask author Jane George some tell-all holiday questions. Find out what NOT to serve at dinner and what present you can send! You may need a bigger bow...
Q: What's your favorite holiday tradition?
A: Late at night on Christmas Eve, we pile into the car bearing cups of steaming hot chocolate. Then, with the windows down, we blast holiday radio tunes and drive around a local neighborhood famous for its lights and decorations. Not as romantic as a horse-drawn sleigh, but it's fun.
AHH...Fluffy Jell-O!
Q: We always talk about our favorite holiday dishes, but what's the one that makes you cringe?

You know the one that you pass on every year, yuck!
A: The infamous strawberry Jell-O with cubed cream cheese chunks and frozen, brownish strawberries. Shiver and shudder, ick and squick.
Q: Black Friday?

Yes or no?

Why?
A: No. Something about masses of people fighting each other for the privilege of purchasing crap they don't need is unappealing. Can't quite put my finger on it, though.
Q: If you could receive any gift, what would it be?
A: A pony. I'm serious. An Andalusian horse "pony" to be exact. I could have answered world peace, but I'm keeping it real here.
Q: What three books would make your top Best of 2012 list?
A: I tend to be a Library girl, so I get to titles late and have not yet read many recently published books.

But the book I read this year (published in 2011) that absolutely blew me away was Chime by Franny Billingsley. I adored every word of it. I'd been suffering from reader's ennui for a few years and that book washed me clean and made me excited about reading again.
Q: Which 'Who' are you? What Dr. Seuss character from Whoville would you be?

Which one do you identify the most with and why?
A: Horton. He's not technically from Whoville, but I relate to having a truth to tell and the challenge of getting anyone to listen. Plus, he's a good friend, and I try to be that.
Q: Do you make a New Year's Resolution? Why or why not?

What's your record, success or epic fail?
A: Every January I exorcise Demon Sugar. Some years are more successful than others. 2013 is going to be one heckuva healthy year. I can tell already.
Are you participating in the Book Bash Readathon? Well, why the heck not!? Click on image to sign up. Join in anytime during the week! Perks? Reading, Books, Giveaways....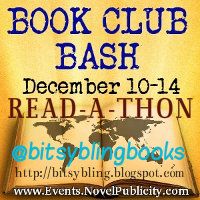 Open Giveaways!
Book Club Bash Giveaway
More Books Bash Giveaway (US)