Each year, I sign up for a number of reading challenges. It may seem like a lot, but all of them allow for cross-overs and it truly is a great way for me to organize my reading. I've set up my challenges so every book I read will qualify for at least one challenge. The Outdo Yourself Challenge allows me to keep a running list of finished reads. I don't review every book I read, but I've found this helps me stay up-to-date and on track with those I do.
Below are the 2013 Challenges I am participating in this coming year. If you click on the images, they will take you to the site. I believe most do not require you have a blog to participate.
Ebook Challenge

Just For Fun Challenge

Indie Fever Challenge

Why Buy the Cow Challenge

Witch's Reading Challenge

Outdo Yourself Challenge

Sequel Series Challenge

Sub-Genre Reading Challenge

Book Bingo Reading Challenge
DVD - 25 ebooks
Simply because my Kindle is over-flowing with books that desperately need my attention! This includes mostly ARC's, galleys, books for review and free Kindle reads.
I tend to get so caught up in the grind of reading for review, that I forget to get to those books I picked up along the way just for the sake of wanting to read. This challenge makes me read at least one book a month of my very own choosing. Usually, it's one I bought at a bookstore or won during a giveaway. I did it last year and it worked out great!
I'm going for the 'Lover' level 9-16 books
Being a staunch supporter of the indie author, how can I NOT have this challenge listed? Of course, I will be reading indies in 2013! I always try to
balance my to-be-read and reviewed list with a wide variety of books.
This one is for me! I'm addicted to browsing the Top 100 Free at Amazon Kindle. I started a free reads shelf on my Kindle and now this gives me the push to squeeze in those books that I just had to grab! I'm going to start with 12 ebooks, but hopefully I can up my level of participation.
May include nonfiction books that are about spirituality, magick, the occult, nature, myths, or the paranormal. Fiction books may include the paranormal, magick, witchcraft, or have a distinctly pagan flavor to the story.
In 2011 I was super successful at this challenge. I read a total of 82 books, and because of that, I made it very difficult for myself in 2012. Although I read many books, I'm not going to outdo my previous record. I've just hit the 60 book mark. The upside, I may shine again in 2013! Here's to hoping and reading. My challenge level:

Getting my heart rate up

- Read 1-5 more books with the hopes I can reach the

Out of breath

- Read 8-10 more books goal.
This one is new for me, but I discovered I read several sequels in 2012. I think it is safe to assume I'll be doing the same in 2013, especially since I am reading and reviewing more YA series books.
(sub-genres can be found here at Writer's Digest)
Read two from each main genre category
Romance
Horror
Thriller/Suspense
Science Fiction/Fantasy
Mystery/Crime
This is also a new one for me, but looks fun. I think this will be the hardest challenge for me to complete because I know I will not re-read any books. I never do! I will have to take another direction to hit B-I-N-G-O.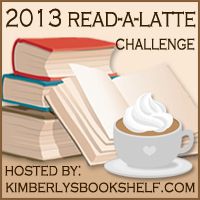 Read books from any genre. I'm signing up for the Latte level which is 75 books. This will be a tough one to accomplish, but I'll give it my best caffeinated shot!