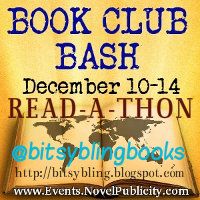 This is the place to sign up for the READ-A-THON hosted by Bitsy Bling Books...
Novel Publicity is hosting a Book Club Bash event December 10-14. In conjunction with this event, Bitsy Bling Books will be co-hosting a READ-A-THON!!! Yipppeee!!! There are several ways to participate so why not join in the fun? You can do as little or as much as you have time for AND of course, prizes will be offered!
WHAT IS THIS BOOK CLUB BASH and READ-A-THON all about?
The love of books! And finding other people who like to talk about them too is always a thrill. Be it online, in person or some other kind of book club, we think the chance to sit down and dig your teeth into a good book with a group of people is one of the best parts of reading.
The prizes lined up so far include:
A custom book club guide from Novel Publicity

5 Signed Paperbacks

Gift Bags with Swag and Books

The chance to name a character in an upcoming book

Manuscript Feedback by one of our authors

2 - $25 Amazon Gift Card

Skype Session with an author for a book club or interview
BUT WAIT... THERE'S MORE! 3 additional books have been added to giveaway courtesy of Allison from the Loopy Librarian
HOW TO SIGN UP for READ-A-THON
Add your name and any URL i.e twitter, goodreads, book blog to the Mr. LINKY below

It'd be awesome if you posted (if you have a blog) about participating in the read-a-thon including TBR list and badge. Again, spreading the word is much appreciated - also, we all like to see what each other is reading! Progress updates are encouraged, but it's totally up to you how you want to track your reading.

Please put badge somewhere on your blog. It helps spread the word. :)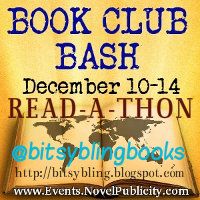 TWEEPLES

: If you have a

Twitter

and would like to follow along, mingle, updated during read-a-thon use:
Hashtag #bookbash
Please visit the host of this event and see all the other ways to get involved click on: