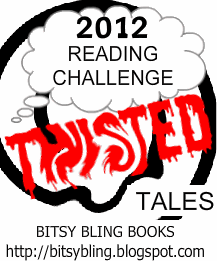 I'm a total nutbar and I really like reading about other nutbars. I've decided to open a 2012 Twisted Tales Reading Challenge to spread awareness about the deranged, comical and mostly absurd sub-culture lurking in the bizarre minds of lesser known authors. Okay, some are famous authors. However, most aren't, but should be recognized for their sicko plots and weird thoughts. Twisted Tales covers a wide range and often is a sub-genre or appendage of a larger category (horror, mystery, sci-fi, fantasy, suspense, ect.) which will allow for cross-over challenge goodness. Yep, that's even more of an incentive to join. If I get you to read at least one bizarre book in 2012 I will do a glorious dance and appease the reading Gods with my influential greatness.
How do I know if it's "Twisted?" I'll let you decide. Use your own judgement and reading experience, but most contain common elements (not limited to the ones listed below). I'm sure I haven't thought of them all - if it's weird, it's twisted and counts. Stop fretting, just read.
Absurd -

Focuses on the experiences of characters in a situation where they cannot find any inherent purpose in life, most often represented by ultimately meaningless actions and events. Common elements are satire, dark humor,incongruity, abasement of reason and philosophy.

Dark comedy

-

A comedy having gloomy or disturbing elements, especially one in which a character suffers an irreparable loss.

A comedy characterized by morbid or grimly satiric humor.

Satire

When vices, follies, abuses, and shortcomings are held up to ridicule, ideally with the intent of shaming individuals, and society itself, into improvement. Although satire is usually meant to be funny, its greater purpose is often constructive social criticism, using wit as a weapon. A common feature of satire is strong irony or sarcasm, but also parody, burlesque, exaggeration; juxtaposition, comparison, analogy, and double entendre are frequently used.

Bizarro

Just what it sounds like 'weird.' May employ elements of surrealism, avant-garde, science fiction, fantasy, gore, humor, and sometimes

borderlines on pornographic. Content is often strange, thought-provoking and most importantly, entertaining. General

definition compiled from info. found at: Eraserhead Press http://www.bizarrocentral.com/about.html
SIGN UP

: PLEASE post on your blog about participating in the challenge. Spreading the word is the goal.

BLOGGERS:

I'd appreciate it if you use the DIRECT URL of the post or challenge page to sign up by adding it to the

Linky Tool

below. If you don't have a blog, just

FILL OUT FORM

to participate. Easy.
CHALLENGE LEVELS - books read
1-12 I scare small children

13-24 I'm a certified nutbar

25-48 A straight jacket won't hold me. RUN!
Bloggers:
Please add the challenge button to your sidebar - make sure that it links back to this post so others can join the challenge if they wish. Easiest way to do this is to copy and paste the code displayed below!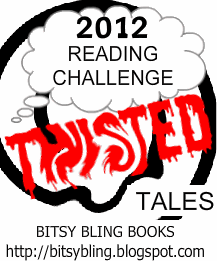 Select books as you go
. If you prefer to set a TBR list that is perfectly find, feel free to change or add at anytime! The books you read can crossover into other challenges. Multi-tasking is fun.
Begins January 1, 2012 but you can join at anytime. All books read in 2012 count towards the challenge regardless of when you sign up.
Audiobooks do not count - that's listening, not reading. All other formats, accepted.
You don't have to have a blog?

For those without a blog just

FILL IN FORM

and I will add you to the list.
Track your own progress. Update and post at your convenience. An end of the year wrap-up post is encouraged, but not required. Post as often as you like and please, if you liked the book, don't forget to write a review (amazon, B&N, Goodreads ect.) - again, not required, but greatly appreciated. Trust me, the authors will love you for it.
If you need help choosing twisted tale reads check out

TWISTED TALES SHELF

at

Goodreads

or

visit Bizarro Central

for starter ideas - but certainly not limited to these reads or sites. Got a recommendation to share, leave it in the comments and I will add it to the list. Thx.
Bonus

(not required): Since your reading books anyways, why not earn some free bizarro books by joining the brigade? Click on Bizarro Brigade for more info. - Not required for participation in challenge, just a helpful suggestion :) Bizarro on Facebook.