The True Book Addict is hosting the annual
The Christmas Spirit Challenge.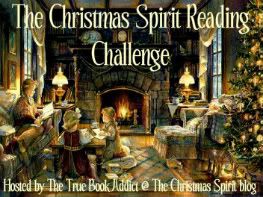 Begins:
Monday, November 21, 2011
Ends:
Friday, January 6, 2012
For all the details and sign-up linky click on link below
My Reading List:
When Elves Attack
A Joyous Christmas Greeting from the Criminal Nutbars of the Sunshine State
I'm dreaming of a Serge Christmas . . .
Palm trees with twinkle lights . . .
Santa's big belly protruding over a neon Speedo . . .
It's ho, ho, ho time in this hilarious and wacky Florida holiday tale, featuring bighearted psychopath Serge Storms and his sidekick, Coleman. Like Santa, Serge knows who's been naughty and who's been nice. Few can give with the generosity and creativity of Serge, and as December 24 rolls around, he is filling up the Serge sleigh with an unforgettable bag of presents.But before that, it's all a big free-range Christmas office party, where Serge will be spreading his special cheer. And there's that last-minute go-for-broke spree at the mall (just beware of those attacking elves—they bite). While you're there, skip the lame photo on Santa's lap—Serge will give you a lap ride you'll never forget. As for that addled elf Coleman, there's nothing like a white Christmas. Let it snow!
So grab a six-pack, spike the eggnog, and hit the dunes on the beach as Serge and Coleman roast some nuts on an open fire and prove that reindeer really do know how to fly!
Jacob T. Marley
Author R. William Bennett
Marley was dead to begin with . . . These chillingly familiar words begin the classic Christmas tale of remorse and redemption in A Christmas Carol by Charles Dickens. Now R. William Bennett rewinds the story and focuses the spotlight on Scrooge s miserly business partner, Jacob T. Marley, who was allowed to return as a ghost to warn Scrooge away from his ill-fated path. Why was Marley allowed to return? And why hadn t he been given the same chance as Ebenezer Scrooge? Or had he? Written with a voice reminiscent of Dickens, Jacob T. Marley is to A Christmas Carol as the world-famous Wicked is to The Wizard of Oz as this masterfully crafted story teaches of choices, consequences, and of the power of accountability. It is sure to become a Christmas favorite.