Paint me pink and cover me with sprinkles,
it's Twisted Tales Thursday and Book Giveaway!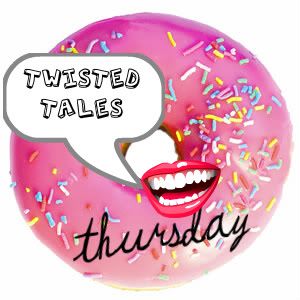 Who would have thunk I could find two books with donut humor AND feature them back-to-back? Never underestimate my ability to achieve the unachievable, believable. If you're lost, then you are totally out of it because donut humor is SO in at the moment and apparently makes me snort-laugh until I hiccup. High-brow stuff? Nay! But undeniably hilarious especially when spending quality time in the restroom or on a bus, which in some cities might be the same thing. Absolutely! There is no way you can make it through this story without laughing and you don't even have to be Jewish, like donuts or hate mimes. It's not a requirement, but it might help.
Death by Zamboni
Author David David Katzman
A sweeping American romance spanning five American generations in America.
Oh, wait, that's some other crappy novel. In Death by Zamboni, you'll follow our anti-hero Satan Donut through a world of mimes, TV stars, zombies, blockheads, mad scientists, riot grrls, and werewolves. This genre-busting satire shish kabobs the commercial-entertainment state which degrades our lives and makes everyone stupid. But on a happy note, at least you've got your health.
Review:
This is not your average sweet American tale about a young man's journey for redemption. No seriously, it's not even close to that...it's better and much more hilarious. My advice is to strap on a pair of Depends undergarments or just read while on the pot because you're going to laugh so hard you'll pee. I'm not sure how Katzman's does it, but his tongue-in-cheek humor is effortless and plays on so many expressions that we've grown up with, listened to, and as children wondered what the hell does that even mean, and when no one can explain, we resign. My favorite parts include the action-interrupting phone calls from Mom, with Dad on the other line. Oh Jesus, if this doesn't make milk come out your nose until you blow milky snot bubbles, I don't know what will! Check your pulse, because obviously a mime has turned you into a humorless zombie during a commercial break. If you don't 'get it' you're probably not old enough and it's past your bedtime anyways. So what do I really think? It's Christmas in July. Go out, or order this book online and stuff it in the stockings of every relative and co-worker. Better yet, display it on your coffee table so your in-laws have something to browse when they visit. Everyone knows a sense of humor is the most attractive attribute and owning this book will prove yours to all!
Meet the man with two names. Okay, it's one name, repeated and NO, it's not a typo! David David Katzman brings the cowboy to the urban city where he finds inspiration for his stories. One of his writing exercises is to stroll around empty lots strumming Ebony and Ivory on his guitar. It's pure poetry and brings joy to all the concrete farms in the area. It's a public service really, well...an animal service. So giddy up partner because this week's twisted author is square dancing all the way to gold country. I have no idea what that even means, but it sure sounds like a whoop-hollering good time --- Yeee haaawww!
What you need to know about David David Katzman:
David is a man with immense nickname potential. He has variously been called David David, David-squared, Dave-Dave, DD, D2 and Double D. People often ask him why he has the same first and middle name, and if it's made-up. The fact is that his mother had a very bad stutter. Wait, that's—what do you call it?—the opposite of the truth…a lie. He actually had two great-grandparents named David, and his parents decided to name him once for each of them. True fact, true fact.
Given his double names, it's appropriate that he has two English Lit degrees—a Bachelor's from OSU and a Master's from U of Wisconsin-Madison. He is a recovering actor, having spent many years in theater and improv, a non-recovering comic-book addict, a painter, contemporary art-lover, vegetarian, political radical, and generally noisy guy. His second novel,
A Greater Monster
, will be available lat
er this year.
David David Katzman's blog: Join mailing list to be notified when his second novel is released, readings, and such.
To contact David David Katzman to purchase a signed and/or personalized copy of DbyZ emai
l:
deathbyzamboni@gmail.com
Time for the speed round of Q&A - TMI. This is were it gets personal!
Q: Tell us two truths and a lie about yourself.
I'm a pathological liar.

I cannot tell a lie.

I once ate poop.

I can't count.

Oh wait, you said one of them had to be a lie?
Q: If you could wipe three things off the face of the Earth what would they be and why?
A: Errm. Since you said "things," I can't call out ideologies, so I'm going to have to go with oil, coal, and nuclear weapons and power plants. Is that four? I told you I couldn't count. It's tough medicine, but I think such an amputation is one of the few changes that could save our species from extinction by global warming. And good morning to
you
.
What do you think is the biggest myth or misconception about being a writer?
A: The vast wealth and power. I mean, the meager wealth and power. The myth is that we have meager wealth and power when in fact we aren't usually that lucky. We dine upon bowls of steam, and wear wolves on our backs.
If life was like the Breakfast Club, what character stereotype would you be and why? (i.e. athlete, basket case, princess, criminal, geek)
A: I would definitely be the illegitimate love child of the geek and the basket case. Because I'm super nerdy, weird, and also highly inappropriate. And with a simple makeover, I turn into a stunning runway model.
You mentioned that your next book is very different from Death by Zamboni. Why did you go a different route? What influenced or inspired the concept for creating A Greater Monster?
A: The reason "why" is simply because my mind lead me there. It's quite likely that every book I ever write will be radically different from its predecessors.
I think many if not most authors get an inspiration for a character or a storyline then map it out and start filling in the chapters. And they often latch onto a consistent writing style to tell their stories. I, on the other hand, start stream of consciousness free writing and then see where my instincts take me. I begin to follow tonal and stylistic traits that appear in the writing. Eventually I pick up a thread of continuity in character or story and start playing with it. Adding elements that may or may not connect but just seeing where it leads me. After several years of this, I finally discover the connections and elements that tie together. I begin filling in missing scenes and weave it all together. At that point, I begin revising and rewriting. And rewriting. And rewriting. The entire process of writing my second novel took seven years and fourteen drafts. The novel was truly born from my subconscious mind. Frankly, plotting things out in advance bores me. I wouldn't enjoy writing that much if I knew what was going to happen before I wrote it. I prefer to be surprised.
As far as inspiration and influences, I wasn't consciously influenced by any writers. If there is one thread that runs through both Death by Zamboni and A Greater Monster, it is that I set out to write something original—as a work not just as a story. In other words, every story written is to some extent unique, but I seek to push beyond an original story and to create something that exists as an original form as well. Or a story (or non-story) told in an original way.
Although I didn't consciously turn to any writers for inspiration, several artists inspired me. I frequently envisioned the scenes I was writing as tableaux, as sculptural moments and they often looked like paintings by Mark Ryden (http://www.markryden.com/paintings) and Todd Schorr (http://www.to.ddschorr.com/Paintings). Other writers … I did channel some stylistic elements as I went into my writing trances. Lewis Carroll, Alice in Wonderland was there, William S. Burroughs and Naked Lunch was there. There's one character, a squid, I wrote in a Proustian fashion. But mostly, I wrote from my heart and my gut.
GIVEAWAY GIVEAWAY GIVEAWAY!!!!
Enter to win a
SIGNED
paperback copy of
DEATH BY ZAMBONI
David's paying for it, so hell lets mail it anywhere. Yipppeee!!!

Whatcha gots to do: Fill out and submit (to my powers) the form below

Contest Ends Midnight July 24
I made it easy.
JUST click on the
Tweet
button for extra cool points