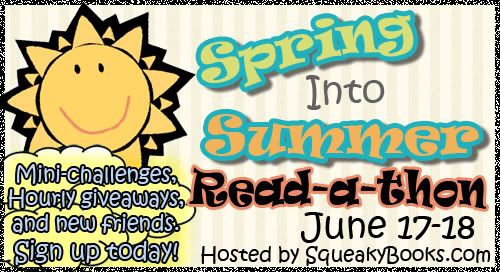 Oh boy! Oh boy! Oh boy! I'm participating in the Spring into Summer read-a-thon hosted by Enna Isilee of
Squeaky Books
!
I plan to participate on:
BOTH DAYS
I plan to read (415 pages)
ARC for Amazon Vine Review
To celebrate and to encourage readers to cheer me on I've decided to have my own bonus book giveaway. What?! More books! Who doesn't need more books! This is a good one because there will be multiple winners! *throws confetti!
GIVEAWAY *** GIVEAWAY *** GIVEAWAY


Author M.A. Demers has generously provided 1 print copy and up to 3 ebooks of her latest novel, Baby Jane.
Synopsis:
When human remains are found in her pre-war fixer-upper in an east Vancouver neighbourhood, Claire Dawson's grand plans to fix the house-and her life-take a disturbing turn. Suspicious there might exist a relationship between the discovery and her own tragic past, Claire insinuates herself into the investigation, unknowingly placing herself in harm's way and Homicide's Detective Dylan Lewis in an impossible conflict of interest. And when Dylan's grandmother, a Coast Salish medicine woman, wades into the mystery, challenging the demon whose earthly form is behind the murder, the three find themselves embroiled in a high-stakes battle where lines are blurred and worlds collide-but souls are ultimately freed
June 17-20
To ENTER please fill out and submit the form below
Don't forget to enter my other giveaways! Enter all and increase your chances to win MORE books!