Time for the 2nd giveaway of the year! February's book is revealed and it's time to enter. Please see details below to make sure you're eligible. This contest has some stipulations but it is INTERNATIONAL.
HISTORICAL TOUR de GENRE GIVEAWAYS
Anyone signed up for Reading Challenge or member of group at Goodreads is eligible for monthly giveaways. Not signed up or a member yet? No problem! You can join anytime during 2011 or prior. Just click on the above links and then come back :)
Open International as long as Book Depository ships to your country. US winners will receive book via distributor of Bisty Bling Book's choice. Int'l winner will receive book via Book Depository.
Winner picked by Random.org
Eligibility will be verified. Entries not eligible will be deleted.
FEBRUARY
The Lady's Slipper
by Deborah Swift
1660. King Charles II has returned from exile, but memories of the English Civil War still rankle. There are old scores to settle, and religious differences threaten to overturn a fragile peace. When Alice Ibbetson discovers a rare orchid, the Lady's Slipper, growing in a wood belonging to Richard Wheeler, she is captivated by its beauty— though Wheeler, a Quaker, is determined to keep the flower where God intended it to grow. Knowing that the orchid is the last of its kind, she steals the flower, little dreaming that her seemingly simple act will set off a chain of events that will lead to murder and exile, and change her life forever…
I know, I know, you're afraid to spread yourself too thin. Don't worry, there's no punishment or horrible penalty if you don't quite make your goal. The challenge police won't come knocking at the end of the year. I solemnly swear we won't chop off your head. You really have nothing to lose and everything to gain, like the chance to win some great historical fiction books!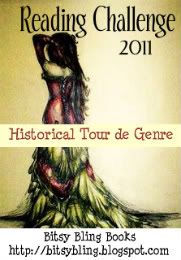 JANUARY 1 - DECEMBER 31, 2011
Open all year -- Sign up any time!
Visit new group set up specifically for this challenge at
GOODREADS
.
Welcome to the
Historical Tour de Genre Reading Challenge
. This is my favorite genre to both read and write. I am a history buff and avid researcher. Although I've signed up for several other reading challenges hosted by great book blogging friends, I decided to start one of my own. I hope you find it interesting and decide to join in. Sometimes the title 'historical' sounds stuffy, or boring and stiff, but it doesn't have to be. Actually, the genre is widening and many sub-genres have developed. To celebrate the diversity I designed a challenge that explores various subs of my favorite reading category.
Click
HERE
for all challenge details.
To join in, please sign up using direct URL link to your challenge page or post. Thanks!
No blog? No problem! I set up a group at
GOODREADS
for everyone for book and challenge discussions.