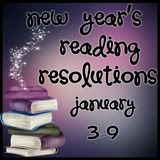 Bitsy Bling Books
will be participating in the New Year's Reading Resolution Giveaway January 3-9. The winner of the giveaway will get to choose 1 book from my Top 10 of 2010 list. Depending on on entries -- I just might have more than one winner *wink, wink*
So take a peek at this year's best of the best. Then, please stop back on January 3-9 and enter to win. Entry will be easy and there will be lots of other book bloggers giving away great titles so make sure you hop around.
Happy New Year! I've completed my countdown. The Top 10 of 2010 has been revealed. Congrats to all the books featured. They have one thing in common, they all share the prestigious honor of making Bitsy Bling Books top ten of 2010 list!
I can't wait to see what is delivered in 2011. As I mentioned, self-published books topped the list! I read 60 books from various genres and avenues of publishing and in my humble opinion, these books were the best of the best. Drum roll please......
BITSY BLING'S

#1

Book of 2010
The original and creative
by Ron Cooper
Published Bancroft Press
What does a monk, condensed milk and a town of backward country hicks have in common? Purple Jesus! I admit I was skeptical when I glimpsed a review claiming that this book belongs on the shelf beside Flannery O'Connor's, Wise Blood, which is one of my all-time favorites. However, after reading Ron Cooper's writing, I stand-up and applaud. Hell, I cheer! I give a woot, dance a jig and shout amen. Yes, indeed Purvis and his crew can toe the line beside O'Connor's religious misfits. So how does it compare? The dialogue is authentic, Cooper's voice original and the symbolism evokes humor, philosophical thought and moral dilemmas as well as perceived sexuality. A string of items are presented and seemingly unrelated, somehow connect and relate. For me, this story was about perception and assigning meaning to anything. An extremely entertaining read with a deep undercurrent. If you are a fan of Flannery O'Connor or Chuck Palahniuk, you will dig this book. I highly recommend. I received the ebook for review, but intend to purchase the paperback because this book needs to be on my shelf so I can read it again, and again. I'd love to discuss the story in a book club forum. Purple Jesus will definitely make my top 10 must reads of 2010. In fact it just made #1!
A tight race...my #2 is One Last Thing To Do Before I Die
Whether you think Max Wiseman is a likable or deplorable character is almost a secondary topic in this richly woven thematic story. It's not a simple matter of like or dislike, agree or disagree, but rather a philosophical journey towards understanding and ultimately, acceptance. The main character is a vessel through which greater questions and self-reflection of both individual and universal shortcomings of society emerge. In this contemporary novel, a pro-suicide argument is made and based on the character's perspective, seems to be a rational and appropriate ending. Also, the incorporation of media's influence on culture is cleverly used and supports Earl's theory that this generation's depression or disillusionment stems from images of how we think things should be, rather than how things truly are. In addition, through the tedious and outright hilarious preparations and travels leading up to the last thing Max must do before he dies, certain realizations come to light. Human beings in general are cliché. We tend to repeat behavior, respond and speak in particular ways and patterns whether we want to admit it or not. We have the propensity to be self-righteous and hypocritical. Even though most of us would like to change, we seldom will and if we do, it will not be terribly drastic because it is not in our nature or habit. To deny this is naive and irrational. Sure, we can give money to a charity and recycle, but most people during their lifetime will not experience a grand epiphany, and if they claim to, they will make only subtle changes. This is a truth most of us can live with, but Max cannot. In this story, change takes place and slight epiphanies occur, but nothing so monumental that it ultimately changes Max's course or perspective of the world. Some might find this disappointing, but I believe it lends credibility to Max's argument (he is a lawyer after all), and further cements his decision. Although some readers may want an alternate outcome, I applaud Goldberg for sticking to the right and only final course for this particular character. Besides, it's the first book in a long time that actually made me laugh out loud!

Recommend to readers who are fans of Chuck Palahniuk and A.M. Homes (This Book Will Save Your Life).
Almost Breathless at
#3
Caraliza
by John Blaine Kirkpatrick
Setting New York, Lower East Side 1919
Caraliza is a story possessed by stark hauntings that will grip your nerves from the first page and drag you into a grisly nightmare that will both seduce and frighten the reader. Much like the photo of Caraliza, it is impossible to turn your eyes away from the macabre on the page and within them, a person will see both beauty and horrible abuse. However, the ghastliness is not achieved through simple shock value, but by displaying an imaginary realness and believable richness of history. It is also amplified by the love that creates a harmonious balance and chilling sensuality that is genuinely romantic. The intimacy between characters will bring a tingle to your skin and a sigh to your heart. Caraliza is a great achievement in pairing the paranormal with romance. It's stunningly grounded and had me holding my breath at parts in the story. The plot is not obviously predictable, although readers might think themselves clever by assuming they've figured out what will come. However, the twist isn't so extreme that it implodes. Clues are dropped along the way like breads crumbs and with each sorrow comes a morsel of joy. It is as if one can not be achieved without the other. I absolutely adored the line, "I'll not wait to die to haunt him." This story will haunt me for some time, but much like Shelly, I welcome the sensations and fright. It too made me feel alive and perhaps, a bit spooky for loving it so much. It is a rarity for me to read a book twice, but I will revisit this story again. As far as I'm concerned, Caraliza is an absolute MUST read and one I will return to. So no, I will not share my copy.
The eagerly awaited
#4
!
The Red Church
Published by P Mass Paper
The Red Church is everything a scary story should be! The characters believe with conviction what they see is real and never waver despite the implausibility. Their trust is contagious and because of this, the reader can rely on the accounts. The 'good' vs. 'evil' element is at the forefront, but what makes this theme unique is how it is presented. Is Jesus really the bad guy? Seems ridiculous to consider given America's deeply rooted Christian culture, but Nicholson is able to craft a story that inspires doubt. This in turn illuminates the fragileness of belief, or does it?

This is more than just good vs. evil, but also ventures into the psychology behind influencing groups of people. Most people when they learn of a cult or occult group wonder how people become followers. It seems illogical and for the most part, crazy. The Red Church presents just how confusing recognizing right from wrong and good from bad really can be. When doubt creeps in, alternative answers are sought and honestly, an idea that might seem ridiculous suddenly becomes convincing. There were points in the story where I thought, "Huh, what if that guy is really right?" The nonsensical made sense and I realized how a person could choose an alternative.

Coincidentally, I happened to watch the ID special on the American Occult and came across an episode that featured Jeffrey Don Lundgren, a man who claimed to be a prophet. Eerily, The Red Church cast are similar to the real life happenings that occurred in Ohio.

To read more about Jeffrey Don Lundgren click here:
A Prophet Born
. Recommend to those who are interested in psychological horror and the American occult.
Crossing the mid-way mark is

#5

The Vespertine
Published by Houghton Mifflin Harcourt
Setting Baltimore, Maryland 1889
From the first line the lyrical prose flow beautifully. The dark poetic-style of each description sings along like a haunting carnival tune. The metaphors are juxtaposed and grounded in concrete images giving it just enough of a dreamy feel without leaving the reader floating in absurdity. I fell fast for this read and found myself enraptured with the story late into the night. I did not want to return from historical Baltimore anymore than I ever want to leave Victorian England. This is a historically dark romance that celebrates youth, love, expectations and fate. It possesses a touch of the paranormal that presents in the popular form of spiritualism or mysticism which was a growing fascination during this time period. It begins with what seems the end, much like a prediction, the finality of the picture is never certain. As the story continues the reader can only hope that the foreseen fate is not realized. Small tragedies are diverted only to reappear in another form, so it is plausible that a different ending might ensure. I adored this book and will read it again because the intensity of the prose-style left me breathless. I do not easily swoon, but Mitchell captured the painful hunger of first love and exploded it onto the page.
Sweet #6 is The Wedding Gift
A downright spine chilling murderous mystery with perfect dark comedic relief that will have the reader laughing out loud at times, and scared at others. I fell in love with the heroines and will miss their bumbles and bravery. This is one story that I hope never gets in the hands of an editor with little creative imagination because the voice and tone is so real and consistent that any changes would destroy the overall feel. I plowed through this book in 24 hours because I simply didn't want to put it down. It's got it all for a Fall read and I highly recommend this gem be added to a MUST read list. A perfect southern ghost story with humorous appeal! Go buy it now!
Lucky

#7

is The Eighth Scroll
The Eighth Scroll is an intelligent story that flows smoothly and reads quick without losing the value of its concept with weighty terms or overly academic hodgepodge. It mixes romance with adventure and explores the mysteries of religious history. It's not deeply reflective, but takes the reader on an alternative view and journey that leaves you wondering. It's a wonderful twist on the subject of the Dead Sea scrolls. Although this book has been grouped with the 'Da Vinci Code,' I believe it deserves much better company. First of all, the Eighth Scroll is superbly written and runs a course that is more easy to swallow than Dan Brown's 24-hour whirl wind of solving a historical mystery. If you didn't like the Da Vinci Code, you will love this book because it improves all the elements that the reader probably wished the other book contained. Now, if you liked the Da Vinci Code, you will love this book and realize this is how it should be done! It's a win, win, so pick it up and read it!

The beginning of the book is a touch too reminiscent of Indiana Jones, but since I'm a fan of those films, I went with it, and even enjoyed the comparison. However, I wish the author would have used a different name for the professor. "Tomes" was just too close to "Jones" and it felt kind of commercial and cheapened the richness of the plot. However, this was short-lived and after a few pages I was swept away and thoroughly involved in the story.
Moving up to
#8
Haunting Miss Trentwood
by Belinda Kroll
Published by Bright Bird Press
Setting Compton Beauchamp, Swindon, London 1887
The Haunting of Miss Trentwood is a gorgeously crafted Victorian novel through which Kroll creates a perfect gothic literary revival. Admittedly, the author suggests that upon completion she recognized the influence of Hamlet in the story. I also see other classical influences such as Bronte and Shirley Jackson. However, the most notable and flattering comparison I can draw is to The House of Seven Gables, by Nathanial Hawthorne because "The Haunting of Miss Trentwood" visits the archetypal theme of withdrawal and return. It explores isolation and redemption along with a person's relationship to the past and determination to a future. It's about escaping and embracing all that influences or paralyzes. This concept (theme) can be examined as it applies to each character, which is fascinating and would make for a lively literary analysis. Similarly, Kroll achieves the proper restraint evocative of the classical Victorian era while harmonizing it with just the right amount of shadowy eeriness necessary when portraying a haunting. The use of the dying house as a character as well as setting is specific and greatly important in this style of novel. Much like Jackson and other gothic authors, the home is often a breathing thing that isolates or separates characters. There is a definite elegance presented in the word choice and proves the painstaking effort the author took in committing to the voice of the story. The lead character, Mary, is vulnerable, but not overtly fragile. There is a feminist quality to her reactions and thoughts, which is evident in her finding a prince in need of rescuing.
Coming in at
#9
is
Cursed
by Jeremy C Shipp
Published by Raw Dog Screaming Press
Bram Stoker Award nominee for Best Novel
What happens if the characters are unreliable, or are they? Cursed is humorous while at the same time deeply philosophical. The reader has to decide if they believe the characters or determine another plausible explanation as to what is driving these people to act or think like they do. In other words, is any of it real? It's a psychological and some might argue sci-fi mystery. Each character is defined by their flaws. Their personalities evolve through habits, neurosis and personal relationships. By doing so, each takes on a unique, tangible form which lends to the imagination visualizing, relating, sympathizing and even becoming attached to the cursive people interacting in the story. The perspective through which it's told, present tense, also enhances the immediacy of the story. I felt as if I was a voyeur following the characters around. It was an interesting sensation to be part of it, or rather feel as if I was part of it. The escapism is unique and fascinating. Similar to Purple Jesus, Shipp takes seemingly unrelated or random objects and gives them extraordinary meaning. Or in some cases, literal meaning. For example, there is a woman who carries around a tennis ball and literally duct tapes it to her hand. She believes if she 'drops the ball' the world will end. This is humorous, but how many people carry with them imaginary 'balls' they are afraid to drop?
Weighting in at
#10
is
A Trace of Smoke
by Rebecca Cantrell
This story manages to fit neatly into four genre categories and does it amazingly well! While reading, my imagination portrayed the story in black and white form with dashes of color, mostly red, which is significant to the gay character. This is not due to a lack of development, but rather should be taken as a compliment to the author's talent to imprint emotions into the scene without directly stating or over dramatizing. I felt a connection to each character and grew to care about them all, even the 'bad' guys because their humanity coupled with history sparked a touch of sympathy. The lead character is an inspirational female, not for her overtly heroic antics, but for her ability to cope and face challenging situations. Thematically, the story builds on many levels, and for me the most convincing is the sense of bravery. Every character at some point and to some degree shows bravery and compassion, which makes this a moving and deeply human historical tale worth exploring.